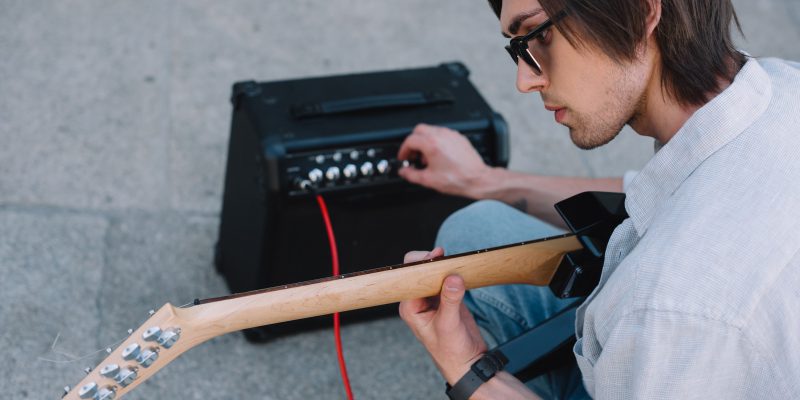 Improvisation and jamming are essential parts of becoming a musician. If you're a beginner instrumentalist who wants to know the most important things determining success in improvisation, read further! 
How to start music jamming/improvisation? Practice with professional musician backing tracks
You probably practice regularly when you are a drummer, guitarist, bassist, or pianist. 
It takes many years of training to play your instrument well. However, if you want to enter the world of improvisation, playing with a metronome or jamming to favorite songs may not be enough. Of course, you can invent your solos to existing songs (there are plenty of various karaoke versions), but it's also worth trying exercises with the so-called backing tracks. For example, jam tracks may be beneficial if you play piano and want to practice a major scale or other music scales! Also, it's vital to get a sense of the form of the music and practice scales and solos within a specific rhythm of a song.
Camtronome is all in one – metronome with looped jam tracks!
Camtronome jam tracks are an excellent opportunity for those who want to play solos or improvisation, regardless of reason or occasion. 
Jam tracks or backing tracks are a must-have tool for all musicians. Now, you can find these in the newest version of the Camtronome app! Maybe you already use it, and maybe it's a discovery for you. Backing tracks are unique soundtracks designed for musicians to practice solos, rhythm, or general flow. They allow you to play along with the metronome in whatever tempo you like. 
If you don't yet have a band, backing tracks can be very helpful to improve your flow, rhythm, and improvisation skills. The musical instruments present in these jam tracks are usually drums, bass, and guitar. Also, you can choose the backing tracks according to your preferred music styles: rock, metal, blues, folk, funk, or jazz. They are therefore suitable for all instrumentalists seeking progress in any musical genre.
How to find and download LOOPS in the Camtronome app?
The looped jam tracks concept is now professionally tackled by the Camtronome app!
There are free and paid versions of these backing tracks within an app. 
To find them, just follow these steps:
Open Camtronome app

Tap the "Loops" section located in the right corner at the bottom of a screen

Use a search bar or browse any jam track you find interesting!

Choose any loop you like, and tap "Download" for free or "Purchase for an X price"
If you've bought one of these, depending on a particular loop, you may jam to major or minor scale, with or without drums, choosing a preferred tempo. It can be a lot of fun and allows you to practice improvisation with the actual control of rhythm pace you wouldn't have otherwise. 
The strengths and weaknesses of playing with loops/backing tracks
Backing tracks allow you to play along with the recorded track with various instruments but without musicians. It's a true revolution for the solitary musicians.
An ideal solution to improve your music skills
When you play alone, it's good to break the monotony from time to time.
Camtronome loops are a great way to:
test your musical abilities,

break the monotony of your usual music practice,

make progress and improve your music skills.
When you play alone without any backing track, you don't have the same feeling as when you have to adapt to other musical instruments. Playing with jam tracks requires you to refine your ear and adapt your playing to other instruments. It's also necessary to play well while keeping the rhythm and the tempo. The backing tracks are, therefore, an excellent way to have a new approach to the music practice. It's a way of playing with other instruments, even when you don't have other musicians around you. Also, you can use Camtronome loops as a base for improvisation (for example, to learn do re mi scale, or different musical scales). It's a bit like "karaoke for instrumentalists."
Another advantage is to jam to music while having the impression that other musicians are present. You can feel a "rock" atmosphere playing in your room. Once on stage, you will perform like never before with practice and adrenaline. 
However, remember that you'll be more effective in your learning if you play in a group. With a band, you feel the song's essence more profoundly, and the band's energy can push you to your limits. The backing track solution is, therefore, only for those who do not have the possibility of joining a music group.
Also, it's advisable to have additional outside help to learn. Indeed, one can be stuck in one place while working alone and stagnate for weeks while with a teacher, you'll get a piece of personalized advice. 
Why play with backing tracks?
Jamming with Camtronome loops will allow you to practice your musical skills everywhere and whenever you want. For example, in 2020, during a Coronavirus outbreak, musicians couldn't see each other. Jam tracks can be an excellent way to keep your music level, even when it's impossible to see each other. Also, you can expand your musical skills.
Get in the groove!
With Camtronome jam tracks, you can learn how to respond to the musical form of the song as well as the repetitive beat. Practice the rhythmic style, scales, and flow – you'll learn and enjoy these looped tracks!