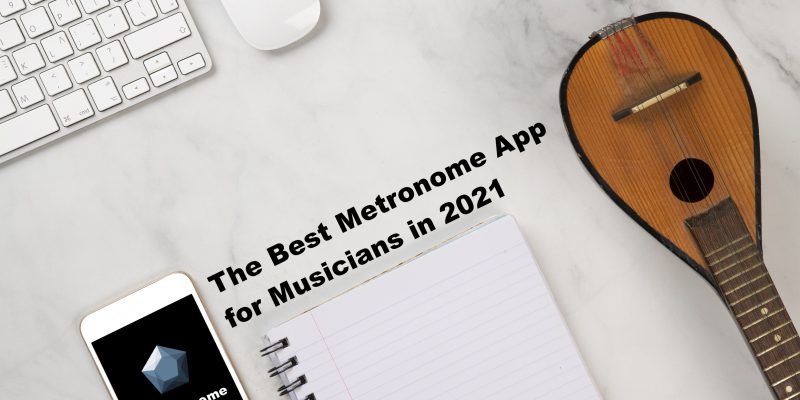 Many musicians think that once they've mastered the technical aspect of an instrument, they know how to play it. However, playing the melody isn't everything. Mastering the rhythm is equally important! That's why using a metronome is an essential for music practice. Although it may seem like a schoolish tool, you'll derive considerable benefit from using it regularly. But, for that, you must know which metronome is the best, and how to use it. In this article, we present Camtronome – the metronome app for musicians that you should install on your mobile. 
Why is Camtronome the best metronome app?
First things first, Camtronome was designed with an understanding of musicians' needs! 
This program emerged from refining the functions offered by other similar applications.
Camtronome KNOWS what you expect from a metronome and gives you hundreds of possibilities at your fingertips.
If you're looking for an advanced interactive mobile metronome, Camtronome will be the best fit! You can use it during your home practice/recording sessions, concerts, studio, or music school. It allows you to practice different types of rhythms and beats while providing a perfect click. So whether you play guitar, piano, drums, or violin, the application will help you keep a steady tempo. Also, it's innovative, multi-functional, easy-to-use, and has a video recording function so you can review your exercises and track your progress. 
Another great advantage of Camtronome is its intuitive interface. The easy-to-notice "Tap Tempo" button lets you set the beat (BPM) with just a few clicks, transforming your smartphone into an advanced rhythm bot. Just tap this icon, and the app will automatically determine the specified tempo (4/4 by default) with pleasant visualizations in the form of highlighted bars (accents). Maneuvering between the settings is very convenient and allows you to adjust the metronome to your needs.
The advantages of Camtronome
If the rhythm practice seems tedious and difficult to you, it's worth knowing that the benefits are considerable. Playing with Camtronome, you'll:
be able to play with other musicians without being out of tempo, 

have a better technique,

be able to practice scales to the beat (for melody instruments),

master rhythm, beat, fills,

recognize the tempo of a song easier,

learn how to keep a steady tempo.
How to use a metronome app?
Once you have a metronome and are familiar with its use, it's time to start playing with it. 
To maximize your progress, your practice sessions must be perfectly organized.
First, start by doing a few warm-ups. 

Then, set a very slow tempo and try to play clear clean notes. The goal is to keep the same beat throughout the exercise to make a conscious rhythm. 

Then choose the song or solo you want to play. As for the tempo, you should know that most modern songs are in 4 beats, so it's effortless to find their BPM. But if you still find it difficult, don't worry. Camtronome has a TAP tempo button so that you may use it as a bpm finder!

Once you know clicks per second, you can now practice with your instrument. Arpeggios, solos, riffs, drum fills, steady rhythm – the goal is to end your exercise when the metronome marks the first beat of a new measure.
Here's how to set up a Camtronome:
This app offers excellent adjustment possibilities. 
Open the app and determine the tempo with a "TAP tempo button" or manually set it up by clicking "+/-" or using the gray slider.

There is a multitude of sound samples that can be used to mark the beat. 

You can also adjust the volume, use headphones, record videos of your practice session, program your own complex metronome, and many more!
Below we give you some ideas on how to experiment during your Camtronome practice session:
Work with different BPMs: the medium tempo is often the "easiest" one. Try to play some slower tempos, and then add speed. 
Widen the metronome beat: go from the quarter note beat to larger spaces between clicks (like the one beat in 2 or one beat in 4). You can also then set the metronome beat every 2 bars, every 4 bars, etc.
Move the beat: instead of playing the same accents as the metronome, consider it as a support to play the offbeat.
What is the Top Metronome for Piano & Other Instruments? 
There is nothing better for a good practice session than having a helpful metronome, which will help you in the most varied musical situations.
Whether you are a professional musician who has to practice all the time or a beginner musician who only has his "moments" to enjoy passion, Camtronome should definitely interest you. 
Camtronome can be customized to make it very versatile. For example, you can choose how many beats you want in each measure, determine the rhythm in which you want to practice the selected tempo (eighth notes, triplets, sixteenth notes, etc.), or change accents by touching the visual indicators on the screen. Within the app, you'll find plenty of handy features and tools to help you with your day-to-day journey to become the most excellent musician ever.
This mobile, digital, and best metronome will help you keep track of the beat while creating music. You can configure it from 30 to 400 BPM, creating the tempo that best suits your composition. Many other modifications are also possible. 
The best metronome for drums, guitar, piano, and more!
One of the best things about this app is that it has an excellent Practice Mode with a speed trainer. Thus, you can set the app to gradually accelerate or slow down the tempo of your practice or rehearsal so that you can test your skills at any pace. 
With Camtronome, you will quickly learn how to play different musical styles and speeds. The app allows you to program entire songs, so you can use it to play a whole gig – metronome beats will guide you through playlists, and a dedicated sound prompter will suggest the changing structure of each song. Thanks to this, you will maintain a constant tempo of your playing and never go wrong! Camtronome is also a great tool for guitarists, vocalists, pianists, or bassists. Whatever instrument you play, it will always help you.
You can easily set Practice Mode according to your needs. For example, you can randomly mute individual notes, randomize the tempo, or mute the entire metronome sound.
All these features make Camtronome a multi-functional, and best metronome recommended for all musicians.
Hassle-Free Time Keeping – Metronome Choosing Guide 
Let's face it: if you want to play with a solid beat, you need a metronome. And some metronomes have features that are super powerful. 
So, which best metronome to choose to work on the rhythm on any instrument?
When you decide to buy a metronome or download a metronome app, it should meet specific characteristics. Among the most important are:
the presence of a perfectly readable rhythm indicator,

the Tap Tempo button,

a diversity of rhythm options that can be changed quickly and easily,

a headphone output,

intuitive interface,

a multitude of additional options for better practice.
A metronome app that will always be within your reach 
Camtronome will come in handy in many situations and takes up very little space on your smartphone. This professional-quality metronome doesn't only look classy, but it will be invaluable in the rehearsal room or the studio. This app will also be a great tool for jam sessions. The Camtronome is Android and iOS compatible and offers various setting options. For example, you can change the sound of a click using the extensive database of sound samples. Thus, your metronome can sound like a drum kit, rattle, or a classic click and bell. This option will definitely come in handy regardless of the music genre and instrument you're playing. Whether you play classical, metal, Latin, or blues, Camtronome will help you practice effectively.
Create a playlist and play each one continuously
With a range of different sounds and with a beat and bar counter, Camtronome is excellent for practice and effective for live shows. It also features a video recording function, and you can set your metronome from 30 to 400 BPM. What's more, you can create playlists
The visual rhythm counter will help you learn to follow the rhythm.