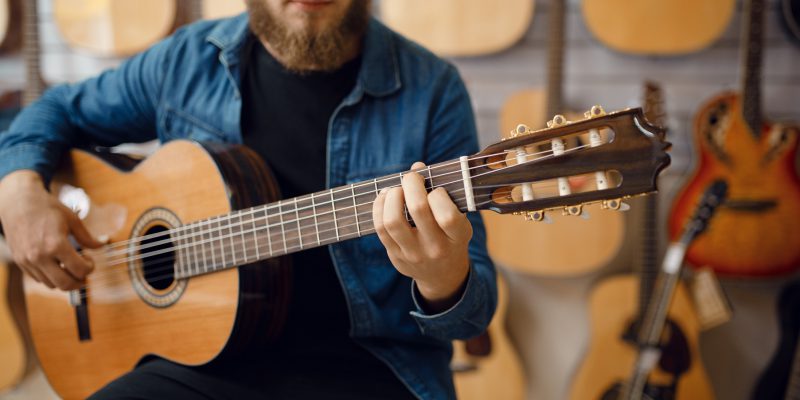 Being a beginner musician is a challenge! However, you need to learn new skills to improve your performance, which takes time and dedication. That's why in this article we selected the best guitar songs for beginners, with which you will practice your guitar playing with pleasure. 
Playing guitar isn't as easy as playing the Guitar Hero game. But don't worry. It's like learning to walk or ride a bike, one foot at a time and little by little. Today we give you a list of songs you can easily learn and become a good guitarist: discover the best tracks from Slash, Jimi Hendrix, and Eric Clapton!
1. Knockin' On Heaven's Door – Bob Dylan
There's a good reason why this song is played at every family and friend gathering. It's super easy to play! Even though the original version is a little more complicated, you'll manage to play it using 4 chords only.
Chords: G, D, Am7, G, D, C
2. House of the Rising Sun – The Animals
Another easy-to-learn song that will delight all your friends.
Chords: Am, C, D, F, Am, E, Am, E
3. Love Me Do – The Beatles
To learn this classic song, you'll need the three chords only. Love Me Do is super fun to play and sing.
Chords: G, C, G, C, G, C, D, C, G
4. Proud Mary – Credence Clearwater Revival
A well-marked soul rhythm, simple chords, and an easy-to-play melody -.it's all there. If you want to play this song, you can choose various interpretations when it comes to singing (if you sing, of course). 
Chords: D, A, Bm
5. Wonderwall – Oasis
Everybody knows that Noel Gallagher is a great composer. However, his songs include complex chords, so to be able to play a full version of this piece, you need to know how to make chords differently. But if you opt for Wonderwall's simplified chord progression, you won't even need the capo.
The song is in G and the major chord cycle is Em – G – D – A. Then a passage appears that adds the C chord and continues the cycle. The song structure is also simple, and you can play it without hard and loud strumming. 
Chords: Em, G, D, A
6. La Bamba – Ritchie Valens
This is one of the best songs for beginner guitarists. It's very famous, easy to play, and pleasant to listen to. If the opening riff is too complicated for you, just proceed to the next part of the song. Although, with a bit of patience, you will be able to learn it for sure.
The harmony of La Bamba always repeats the same chord cycle: C – F – G – F for the first phrase and C – F – G for the second. 
Chords: C, F, G, F, C, F
7. Fix You – Coldplay
Another song recommended for beginners is Coldplay's "Fix You". With just a few chords, you'll be able to play this song smoothly. 
Place the capo on the 3rd fret and follow the chord progression: C – Em – Am – G. Of course, you can play it without the capo – the song will sound differently than the original, however, this way you'll be able to play more freely.
Chords: C, Em, Am, G
8. Imagine – John Lennon
Even though this song was composed for the piano, you can still make a guitar cover.
The original version has relatively complex chords and finger picking. However, there is possible to play the simplified version.
The song is in C and switches mainly between C and F. You can use a light strum to mimic the mood of the original piece. Imagine has a moderate tempo, which allows you to easily go from chord to chord. 
Chords: C, F
9. Sweet Child O' Mine – Guns N' Roses
Guns N' Roses' Sweet Child O' Mine is indeed an '80s anthem. The song is well-known so it's really great to include it in your repertoire. If you're a beginner, take advantage of its simplified version in which all chords are in D major key 
Only the small fragment before the end includes an Em minor chord. 
Chords: D, C, G, D
10. Stand By Me — Ben E. King 
Stand by Me is a universal classic written by Ben E. King. It's a simple pop ballad that you can pull off quickly.
The song is in A and repeats a harmonic cycle, always in the same order: A, F#m, D, and E.
Although the F#m chord can be difficult to play, you can play it on the first part of the neck, where your hand has more space and feels more comfortable. 
Practice with Camtronome!
Be sure to download and check out Camtronome – a metronome & camera app, where you can find a lot of handy tools that will help you to master your guitar skills. The metronome is an essential tool to learn how to play guitar chords and solos at a specific pace. If you'll follow the groove, your music will sound better and more professional, and with feeling. 
Also, if you want to practice some solos and scales, you may find attractive to jam around music loops/tracks, available in Camtronome app.